Texas Board Certification
There are more than 70,000 attorneys licensed to practice in Texas. Only 7,000 are Board Certified. That's 10% in any practice area
– Texas Board of Legal Specialization
Although Board Certification is a voluntary program for attorneys, judges and public defenders, significant and certification in law. For an Olympic athlete, the goal is a gold medal, for a scientist, it's the Nobel prize and for an attorney, it's Board Certification in a specialty area.  Both Clint Broden and Mick Mickelsen are Board Certified in two areas.
Initial certification is valid for a period of five years. To remain certified, an attorney must apply for re-certification every five years and meet substantial involvement, peer review and continuing legal education requirements for the specialty area.
Requirements for Board Certification Attorneys in Texas
Been licensed to practice law for at least five years;
Devoted a required percentage of practice to a specialty area for at least three years;
Handled a wide variety of matters in the area to demonstrate experience and involvement;
Attended continuing education seminars regularly to keep legal training up to date;
Been evaluated by fellow lawyers and judges;
Passed a 6-hour written examination.
Criminal Law Board Certification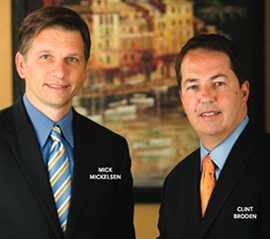 You will find that most, although not all, excellent criminal defense attorneys are board certified in general Criminal Law. Moreover, most, but again not all, attorneys who have significant experience in representing persons on appeal in criminal cases are certified in Criminal Appellate Law. We would strongly suggest that, when hiring an attorney, you give strong consideration as to whether the attorney has been certified as an expert in his or her practice area by the Texas Board of Legal Specialization.
Both partners in the firm were certified in Criminal Law in 1999 and are one of the few completely board certified firms in Texas.
Criminal Law Requirements:
Certified Criminal Law specialists have experience in the preparation and trial of serious criminal matters. They have extensive knowledge of state and federal constitutional law, evidence, procedure and penal laws involved in these matters
Criminal Appellate Law Board Certification
Clint Broden & Mick Mickelsen also became part of the first group of attorneys to be certified in Criminal Appellate Law. This first group of certified lawyers in Criminal Appellate Law was limited to approximately eighty-four attorneys and judges in the entire State of Texas in 2011. Learn more on why the certification in Criminal Appellate Law was added.
Criminal Appellate Law Requirements:
Certified Appellate Criminal Law specialists have extensive experience in handling appeals from criminal cases in both state and federal court.  Moreover, to be certified as an appellate criminal law specialist you must have handled a large number of appeals and post-conviction matters such as 11.07 writs, 2254 writs and 2255 writs, in both state and federal court
Both partners in the firm are one of a small group of board certified attorneys in both Criminal Appellate Law and general Criminal Law. Therefore, whether you need an attorney to represent you at trial or on appeal, you will know that Broden & Mickelsen, LLP is the right firm.
Learn more about the Texas Board of Legal Specialization on their FAQ page.