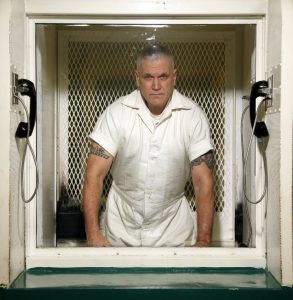 A former accountant from Dallas who murdered his two daughters in 2001, has been moved from death row as a fight goes on to prove his mental incompetency.
The Dallas Morning News reported on how John Battaglia had been due to be executed in March but won a stay of execution in the 5th U.S. Circuit Court of Appeals.
Under Article 46.05 of the Texas Criminal Code, insanity is defense and a person who is incompetent to be executed should not be executed.
Battaglia has been moved from death row in West Livingstone to the Dallas County Jail as his attorneys fight his looming death sentence.
His crime 15 years ago horrified people around the world.  He was convicted of shooting to death his daughters aged 9 and 6 at Deep Ellum in 2001 as an act of revenge against their mother. He even arranged a phone call with the girls' mother in which the girls pleaded with him to spare their lives.
No date has been set for a hearing in Battaglia's case and the death row inmate's attorney is not able to file a substantive challenge to the killer's competency to receive the death sentence because he only recently received relevant case files, the Dallas Morning News reported.
Battaglia has a long list of mental disorders. During his trial for capital murder, psychiatrists acting for the defense testified that he suffered from bipolar disorder.  A grown-up daughter from a previous marriage said he was diagnosed with narcissistic personality disorder. This condition including an over inflated sense of self importance and a lack of empathy.
It's unusual for an inmate who is on death row to be spared the death sentence due to mental incompetency in Texas but it has happened.
In 2012, a court found that Marcus Druery, a severely mentally ill man was incompetent to be executed. His attorneys presented more than 150 pages of background from mental health professionals arguing he should not be executed due to major mental illness. He did not understand why he was being executed, meaning the death penalty was unconstitutional.
However, there have been many examples of states executing prisoners who show signs of very serious mental illness, including the 2015 death of Derrick Charles who committed a triple homicide in Houston.
An article in The Intercept stated there is no downright ban on executing the mentally ill.