Mass Shooting in West Texas Raises New Questions About the State's Gun Laws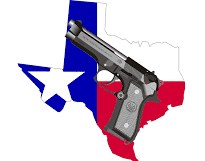 Another mass shooting in Texas has reopened questions about some of the most liberal gun laws in the country. Seth Ator went on a killing spree that left seven dead and wounded 25 in and around Odessa in West Texas.
The shooter was barred from buying guns but purchased his assault rifle in a private sale which does not require a background check, a law enforcement source told CNN.
The station reported Ator attempted to buy a firearm on January 14, 2014 but wasn't allowed to, according to the Texas Department of Public Safety.
The department is prohibited by law from revealing the reason he was denied the purchase, the DPS said.
The mass shooting comes closely on the heels of the killing of 22 people in a Walmart store in El Paso, Texas on Aug. 3. It reignites the debate about Texas' gun laws.
A day after the Odessa shooting, a new set of laws came into effect that extended gun rights in Texas. The changes will allow licensed gun owners to store firearms and ammunition in locked places in their vehicles even on school campuses.
Licensed gun owners will be allowed to carry firearms in a place of worship in the absence of signs prohibiting firearms. Landlords can no longer ban gun owners who are legally licensed to carry from taking firearms and ammunition on their property.
Gun owners will also be able to legally carry concealed weapons without a license for 48 hours after the governor orders an evacuation. The law was triggered by concerns about crime in the aftermath of Hurricane Harvey in 2017, reported Newsweek.
Texas Governor Greg Abbott came under pressure after revealing Ator failed a background check. The governor did not elaborate in a tweet how the gunman obtained the rifle he used to kill seven people and injure 22 others — including a state trooper and two police officers. Ator died after a shootout with police outside a movie theater in Midland.
Abbott cited the shooter's criminal history. A report in the Austin American-Statesman noted that the gunman was arrested for evading arrest and criminal trespass in McLennan County in 2001. He was 18 at the time. He received deferred adjudication, which is a form of probation after admitting both misdemeanor charges. The conviction would not explain why he failed a background check. In Texas, only convictions for felonies or domestic violence misdemeanors block residents from legally buying a gun.
It's possible to buy a gun without a background check. Licensed firearms dealers in the Lone Star State must conduct background checks through the National Instant Criminal Background Check System, or NICS.  This is not the case if a buyer already has a license to carry a handgun in Texas. Private sales do not require a criminal background check. These include some gun sales at gun shows.
In a separate announcement, Abbott said he is working on a legislative package that includes expedited executions for mass murderers. The Texas Tribune reported few other details were available and details remain sparse.
The incident on Aug. 31 began when Texas Department of Public Safety troopers pulled Ator over for failing to use his turn signal. Ator started firing at them. He sped away firing at people as drove west toward Odessa. He hijacked a US Postal Service truck, killing the mail carrier.
If you have questions about gun crimes in Texas, please talk to our experienced criminal defense team at (214) 720-9552.