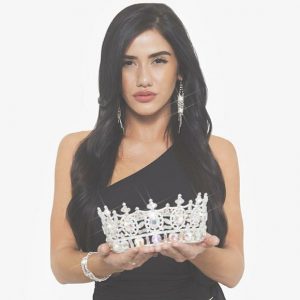 Having a criminal record can severely impact your life by barring you from jobs and accolades, even years after a conviction.
This was graphically illustrated when a beauty queen in Texas was stripped of her crown after her criminal record came to light.
KHOU reported on how Miss Corpus Christi Latina Caitlin Cifuentes, will have to return her crown because of her criminal record.
The report stated she is on probation for a misdemeanor driving while intoxicated case and deferred adjudicated probation for aggravated assault with a deadly weapon, according to Nueces County court records.
She was crowned Miss Corpus Christi Latina despite having a criminal record and being previously married. A lawsuit filed by six pageant constants against the director of the contest said the two factors should have led to her immediate disqualification.
Valeria Barrera, one of the women who is suing the organizers, will claim the title.
Director Kayla Alvarez said Cifuentes' background should not have stopped her accomplishing her goals.
If you have a criminal record it can be considerably harder to be successful. However, some well-known celebrities have successfully put criminal records behind them. They include actors Robert Downey Jr. and Mark Wahlberg, country singer Wynonna Judd, singer Fiona Apple and even Microsoft billionaire Bill Gates who received a number of speeding tickets, according to the Huffington Post.
Arizona State University conducted research in 2014 to find out the effect a criminal record can have on the employment prospects of offenders. The research compared genders and races.
The Key findings included:
Hispanic and black men were considerably less likely to receive a positive response from potential employers such as a call back, an interview or a job offer.
Men who had criminal records were more likely than women with criminal records to receive an unfavorable response from potential employers.
White men holding a criminal record had more positive responses than black men who had no criminal record.
It's tough enough to get a job without a criminal record in a competitive environment. If you are charged with an offense it's important to look at challenging it. Hiring an experienced Dallas criminal defense attorney is a good start. See our success stories.