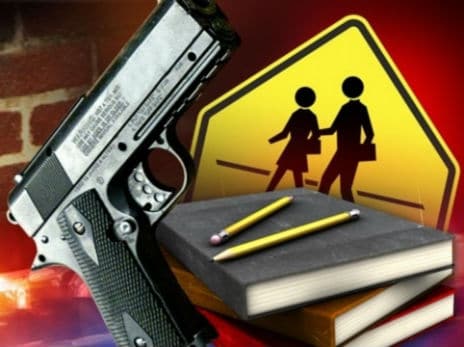 Texas has liberal gun laws but they don't extend to school campuses. Three students were arrested for gun offenses in North Texas a day after a shooter killed 17 people at Marjory Stoneman Douglas High School in Parkland in Florida.
The Dallas Morning News reported three North Texas high school students — one each at Plano West, Marcus High in Flower Mound, and South Garland — were arrested Thursday after reportedly taking guns to their campuses.
A day earlier Nikolas Cruz was accused of opening fire at the Florida high school, leaving multiple victims.
The Morning News reported the students at Marcus High and South Garland students each face a charge of carrying a firearm in a prohibited place. The student from Plano West may face a felony charge.
On the same day, an Arlington junior high student was arrested by police for allegedly making threats to shoot the school. A Weatherford teen was arrested after making what police described as vague threats on social media.
None of the weapons in the incidents were fired and no injuries were reported at the schools.
At South Garland, the media reported a school resource officer and the school principal confronted a 19-year-old after another student reported he stole a cellphone. Police said they recovered a phone, an unloaded handgun and marijuana in the student's backpack.
At Marcus High, police arrested a 16-year-old whose name was not released in reports. Other students reported he had a handgun. The student was taken into police custody after officers found an unloaded, small-caliber handgun and ammunition.
At Plano West, a school resource officer placed a juvenile with a handgun into custody after investigating a Campus Crime Stoppers lead. The tip to police suggested that a student had brought a handgun to campus.
Police said no reported threats were made by the Plano student before he allegedly brought the gun to his school.
Police point out it's a felony to possess a gun in a weapon-free zone such as a high school campus.
Texas has a campus carry law that allows certain students to carry guns on college campuses. The law is not applicable to high schools.
To qualify for campus carry you must have a Texas handgun license. Licenses are available to anyone who is at least 21 (or 18, if a member of the military).
You must pass a classroom and gun range training course states ABC13. Restrictions can be imposed on convicted felons and students who were charged with felonies and certain other high-level misdemeanors. People with a history of mental illness may also face restrictions.
Under the Campus Carry law, guns are permitted in buildings, dorms, and classrooms but each campus can draw up its own rules on where weapons are allowed.
Campuses must publish details of areas where guns are banned. At the University of Texas in Austin, faculty members can declare their offices as gun-free zones.
From August 1, 2017, Texas community colleges were mandated to allow campus carry. However, private schools, such as Baylor, Texas Christian, Rice, University and others, have the option of banning or allowing weapons.
In the present climate, the authorities are likely to clamp down hard on guns in schools. If you have been arrested for this offense, you should contact a North Texas criminal defense lawyer.