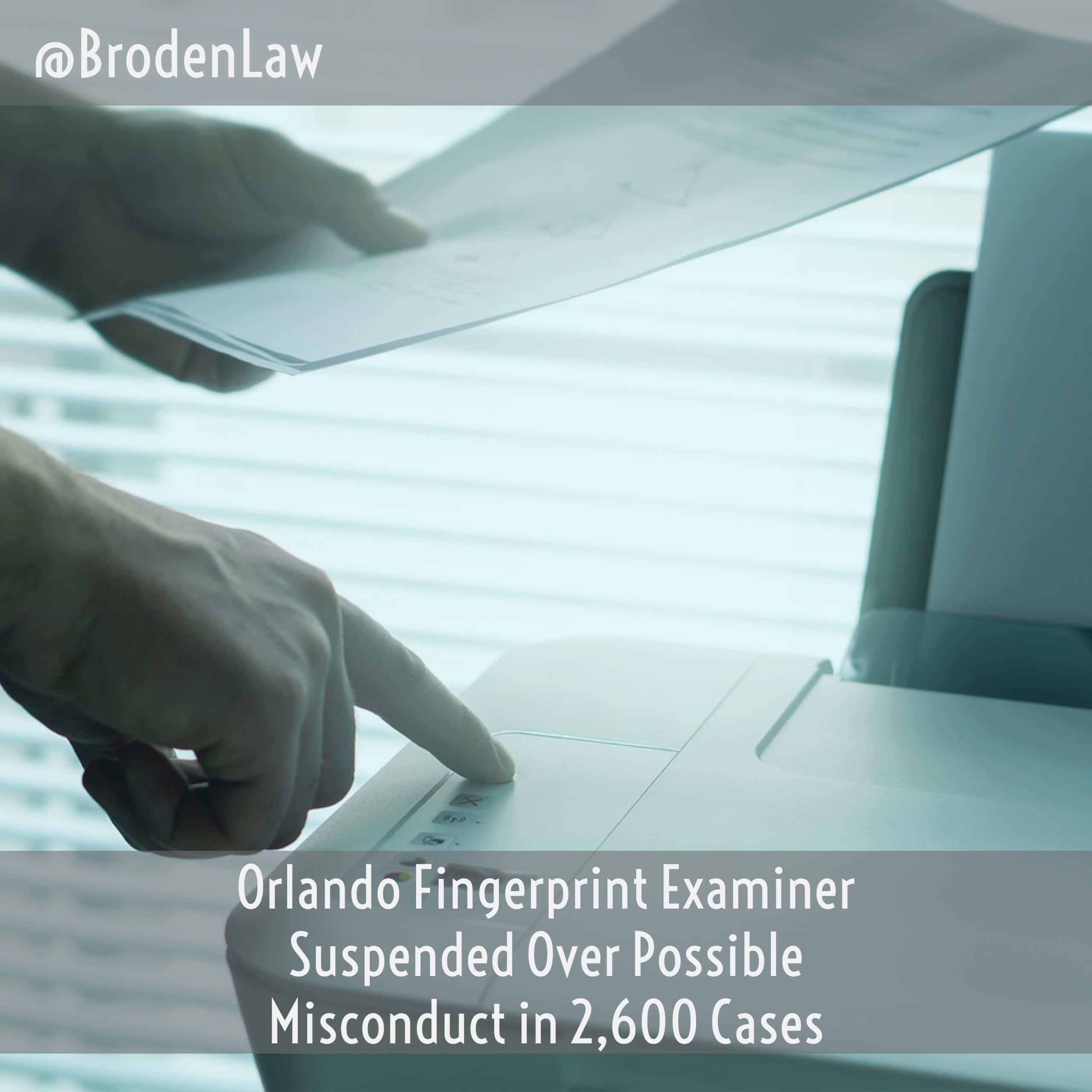 Florida announced it has suspended a fingerprint examiner for "reasons that aren't totally clear."
In recent years, the list of widespread misconduct in crime labs across the country has grown inconceivably long.
According to a recent Washington Post report, there may be a new item to add to the list. The Orange County Sheriff's Office in Orlando, Florida announced it has suspended a fingerprint examiner for "reasons that aren't totally clear." At the time of his suspension, the examiner had worked on over 2,600 cases dating back to 2001.
The report states that the state's attorney's office hasn't identified a specific reason why it removed the examiner from duty, but it sent a letter to every defense lawyer involved in the nearly 3,000 cases the examiner worked on stating that the examiner was taken off fingerprint analysis due to performance issues that included "clerical errors, failure to identify prints of value, and mislabeling of print cards."
As a result, the county's public defender has stated that his office is taking a look at all of the cases the fingerprint examiner worked on to determine if there was any wrongdoing that could have led to an innocent person being convicted of a crime.
Evidence Mishandled in Other Crime Labs
The story adds that this is by no means an isolated incident. Unfortunately, there have been other cases involving the mishandling of evidence in crime labs.
A crime lab in Austin, Texas mishandled DNA evidence involving 2,200 convictions.
A chemist admitted to contaminating samples on purpose and turning negative samples into positives in up to 50,000 cases at two testing facilities in Massachusetts.
Possibly hundreds of criminal convictions in Ohio have been called into question due to the mishandling of evidence by a forensic scientist who worked for the Bureau of Criminal Investigation for three decades.
The testing results in around 1,500 cases in Oregon are being reexamined after authorities discovered that a lab tech was stealing drugs and replacing them with over-the-counter medications.
Over 14,000 convictions have been questioned in New Jersey due to faked lab tests.
In perhaps the most shocking mishap of all, the FBI admitted in 2015 that nearly every single examiner in its forensic unit gave flawed testimony in almost every trial in which they offered evidence over a two-decade period. Out of 28 examiners, 26 overstated forensic matches in a way that slanted favor to prosecutors.
Sources:
Dallas State Criminal Defense Lawyer
Broden & Mickelsen, LLP
2600 State St Dallas, Texas 75204
Main Phone: (214) 720-9552
Dallas Criminal Defense Lawyer on Facebook
SOURCE: Broden & Mickelsen, LLP